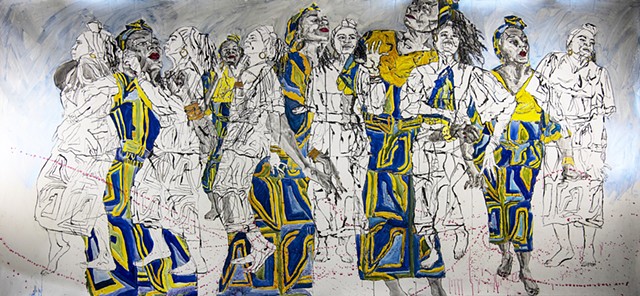 Barbara Felix is a contemporary figurative artist. She received her BFA in Graphic Communication at Texas State University in 1991, where her TSU coursework fired her love of the human figure and inspired her long pursuit to work as an artist. Felix began taking community classes at the Southwest School of Art in 2006. After receiving a Best of Show award in 2007 at the All Student Show, she began a more dedicated pursuit of art receiving a Certificate in Drawing, Painting and Printmaking in 2013.
Felix's work is in public and private collections. She received a 1st place for 2-D art at the Round Rock Arts [Re]Imagine Exhibition in 2019 for her portrait of The Color of Women: Thelma and Barbara. She is self-taught in animation, video and audio editing, and her animation and performance videos have been screened in festivals and exhibitions across San Antonio and the United States.
Felix is an active member of the following art organizations: Contemporary Art Month (CAM) Executive Board Member – promoting contemporary artists in San Antonio; Gentileschi Aegis Gallery Association (GAGA) – which promotes women artists across Texas; and the San Antonio Ethnic Art Society (SAEAS) – nurturing young artists color through scholarship opportunities and supports artist members with exhibitions. Felix is employed as a corporate in-house graphic designer.